Wed, 06/01/2022 – 01:52pm | By: Ivonne Kawas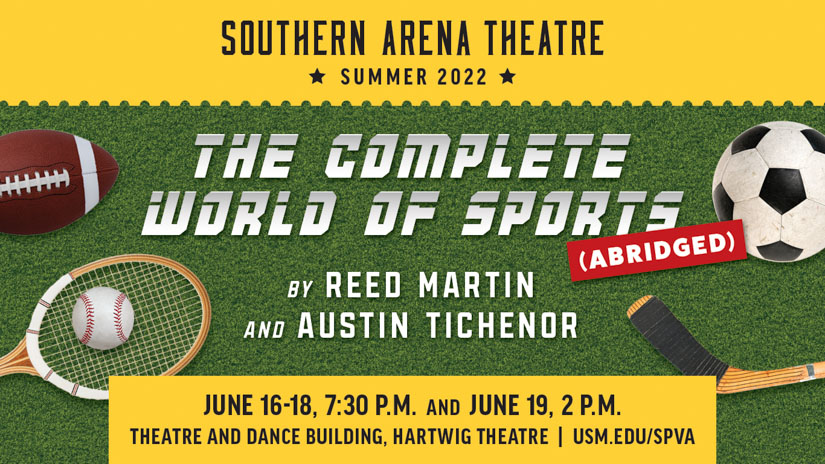 Southern Arena Theatre (SAT) is set to return for its 45th season at The University of Southern Mississippi with two family-friendly performances in the Hartwig Theatre on the Hattiesburg campus.
Kicking off with The Complete World of Sports (Abridged) by Reed Martin and Austin Tichenor on June 16, 17 and 18 at 7:30 p.m. and a matinee performance on June 19 at 2 p.m.; and continuing withDragons Love Tacos by Ernie Nolan, based on the New York Times best-selling book by Adam Rubin with illustrations by Daniel Salmieri, on June 23, 24, and 25 at 7:00 p.m. with a matinee performance on June 26 at 2 p.m.
Ticket prices for the show are $10; tickets for faculty, staff, students, seniors and military are $8.
The Complete World of Sports (abridged) is a fast-paced comedy that follows three bumbling sports news casters. Filled with hilarious one-liners, witty puns and audience participation, it promises to take up "every single sport ever played on every continent." This show will most likely be enjoyed by ages 10 and up.
The production's director Sam Buchanan, a native of Hattiesburg, Miss., noted this production is meant to delight every non-sports fan in the family. "This hilarious show is meant to be enjoyed by sports fans and non-sports fans alike, as the cast attempts to inform you about the complete world of sports!," said Buchanan.
Ellie Boykin, a native of Mobile, Ala., shared her experience, as she has been preparing to take on one of the roles in the production. "This show is a wacky history of every sport ever!," said Boykin. "Well, at least it attempts to provide a history of every sport, and as a woman it has been fun to see how ladies have played an important role in the development of competitive games."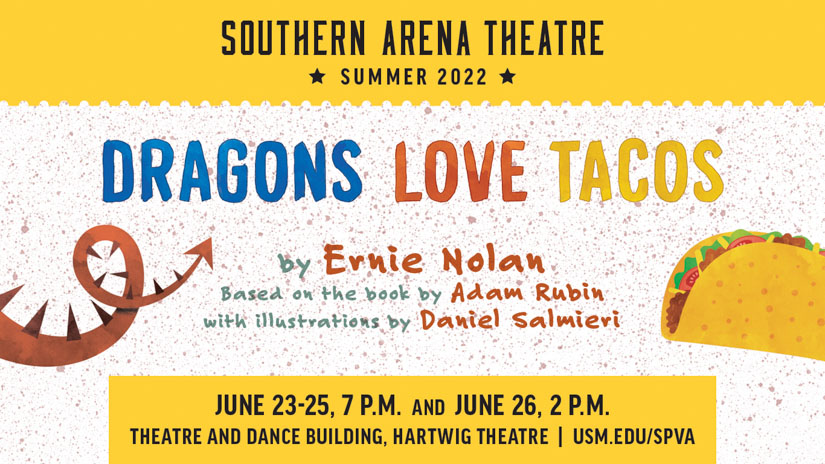 Dragons Love Tacos is an exciting show filled with fun and laughter, but most importantly tacos! A boy and his dog are watching a TV show about dragons when they unexpectedly get caught up in the 'Dos and Don'ts' of what to serve to dragons to eat. Dragons love tacos, but if they accidentally eat spicy salsa…watch out! This show will appeal to all ages, particularly geared toward younger audiences.
The production's director Blake Waters, a native of Mobile, Ala., said this humorous dragon tale is filled with imaginative storytelling. "This play is a celebration of imagination and innocence. I hope audiences will enjoy finding out the mind blowing, earth shattering, titillating secrets of dragons," said Waters.
Bau Tran, a native of Bay St. Louis, Miss., shared his experience, as he has been preparing to play the production's leading role of the Boy. "I enjoy being able to express the story of Dragons mainly through physicality, and also being able to revisit the feeling of being a kid again has been memorable," said Tran.
Since its first season in 1977, SAT has been a Hub City summer theatre staple, as it is dedicated to entertaining the greater Hattiesburg community by featuring shows with a broad appeal.
Support for SAT comes in part by the College of Arts and Sciences, Partners for the Arts, local corporations, and from individual donors.
Visit usm.edu/spva to purchase tickets.