Wed, 03/22/2023 – 10:01am | By: Ivonne Kawas
The University of Southern Mississippi (USM)'s Theatre program, housed in the School of Performing and Visual Arts, is proud to bring The House of Bernarda Alba to the Hartwig Theatre on the Hattiesburg campus on March 30 at 7:30 p.m. In-person tickets are now available for this event, and it is recommended for mature audiences.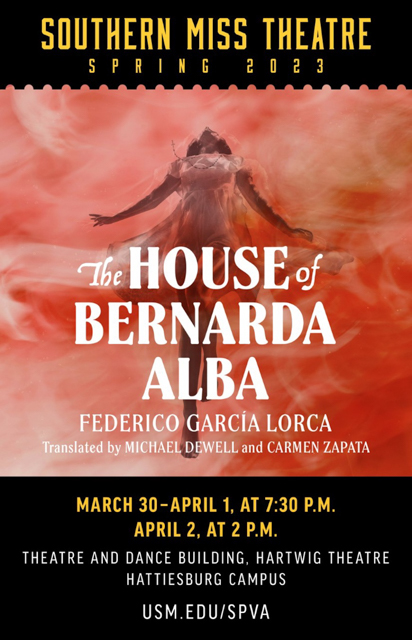 The production continues on March 31 and April 1 at 7:30 p.m. and a matinée performance on April 2 at 2 p.m. Tickets are $15 for general admission, $10 seniors, military, faculty and staff, and $8 for students.
The final play by Spanish playwright Federico Garcia Lorca depicts the generational struggle between a matriarch and her daughters in the wake of her husband's death. When Bernarda Alba isolates her children from the outside world, the tension can only build until it reaches its explosive climax.
"This production follows a newly widowed mother of five daughters trying to maintain her household in Spain during the summer of 1936. Creating and exploring this story with the cast, crew, and designers has been a perfectly splendid experience," said Mia Taylor, director and MFA Directing candidate. "Audiences can look forward to seeing what it means to be in a family during its toughest of times and what it means for them to choose their desired lives over family."
Anna Fanning, MFA in Performance candidate, is playing Bernarda Alba in this production. Fanning said that the production is made up of "an absolute powerhouse of a cast" that is passionate about the show. She continued to share that, "Bernarda Alba is a complicated and fascinating woman clinging on to order even as it slips through her fingers, and I am so excited for audiences to see her and allow the show make them think about family, love, and the repercussions of misused power."
Shelby Burgess, MFA in Scenic Design candidate, who is designing the scenery is excited to showcase her "first full-fledged scenic design" to the audience.
"There were some unique challenges that I had not anticipated, but none that were unwelcome. I'm grateful for the professors who've guided me through the process and challenged me to think in ways I never would have expected," Burgess said.
Burgess continued to share her excitement about the show and cannot wait for the community to see the story come to life on the Hartwig stage.
"The opportunity to combine the unique elements of Spanish architecture into a story such as this has been nothing short of thrilling. Seeing the actors breathe life into a set is a scenic designer's greatest joy," Burgess shared. "The story told through them is echoed by the world I've had the opportunity to construct around them. It's truly a wonder to behold."
Visit the ticket office for a complete schedule and to purchase tickets.