Fri, 08/12/2022 – 01:20pm | By: Ivonne Kawas
The Mid-South Sculpture Alliance (MSA) will honor Jennifer Torres, professor and 3D Area Coordinator in The University of Southern Mississippi's (USM) Art and Design program with the prestigious Master's Award for her achievements in sculpture and academia. The award will be bestowed at the 2022 Confab conference to be held in the state's capitol on October 15, 2022.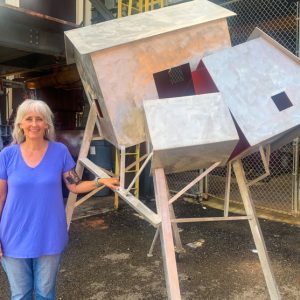 The Mid-South Sculpture Alliance is a non-profit organization dedicated to advancing the creation, awareness and understanding of sculpture in Southeast regional communities and across the nation.
"Professor Torres is an important member of the MSA and an essential voice in the contemporary field of sculpture and arts education," said Kristen Tordella-Williams, president of the MSA and chair of the Confab Committee. "We are thrilled to grant her this honor in light of her 23 years of teaching at USM and for her dedicated record of advancing sculpture at all levels through her mentorship."
Confab brings together some of the nation's foremost experts and talents in the field of sculpture for a one-day conference. This year's event features a public exhibition and keynote by Pakistani-American artist, Anila Quayyum Agha, along with panel discussions and networking opportunities. Torres will be bestowed with the award at the dinner being held at EcoShed in Jackson, Miss. at 6:30 p.m.
"What's most important to me about being honored with this award is that it recognizes my art practice and my teaching which really go hand in hand," Torres said. "My sculpture making informs my teaching and deepens my connection with the students and their educational journey."
Torres also reflected on impact MSA has on the Southeast region. "MSA is a remarkable organization that supports all levels of sculpture making from students through seasoned professionals."
"Being a member has given me all kinds of opportunities to build connections and participate in shows and other professional development opportunities," Torres added. "I encourage anyone interested in sculpture to become a member."
Torres has been inspiring the next generation of artists at USM for 23 years. Her work in sculpture exhibits her passion for creating dynamic pieces that use a range of traditional and contemporary processes. Throughout the years, she has set the bar high as a distinguished artist whose work has been exhibited around the nation. Her trajectory spans an impressive range of achievements, most recently being named the 2022 Mississippi Institute of Arts and Letters Visual Artist of the Year for her public artwork entitled Garden Boats, which is permanently installed at Osage Park in Bentonville, AR.
"Torres is a nationally and internationally recognized artist and educator," said Meg Brooker, director of the School of Performing and Visual Arts. "Her significant influence and stature has established a legacy of success here at USM and within the arts community."
Torres began her studio training at the Art Students League in New York City. She went on to earn a BFA at the Cooper Union and an MFA in Sculpture from the University of Georgia in Athens. She has worked in steel fabrication, casting, woodworking and photography, and trained as a cabinetmaker in New England. She has previously received numerous awards including being selected for a highly competitive 2020 Mississippi Visual Arts Fellowship and named as the Creative Researcher of the Year at USM's College of Arts and Sciences.
Nominees for the award must be established and recognized as an artist and, if applicable, as an educator. Previous MSA Master's Award winners include internationally respected sculptor artists: John Henry, George Beasley, and Patricia Renick.
The sculpture program at USM offers a B.F.A. with a sculpture and ceramics emphasis. It has excellent shops and studios that provide students with many opportunities to learn all aspects of three-dimensional art making.
Check out this year's Confab schedule and learn more about the Art and Design program, housed in USM's School of Performing and Visual Arts.