Wed, 10/26/2022 – 10:36am | By: Ivonne Kawas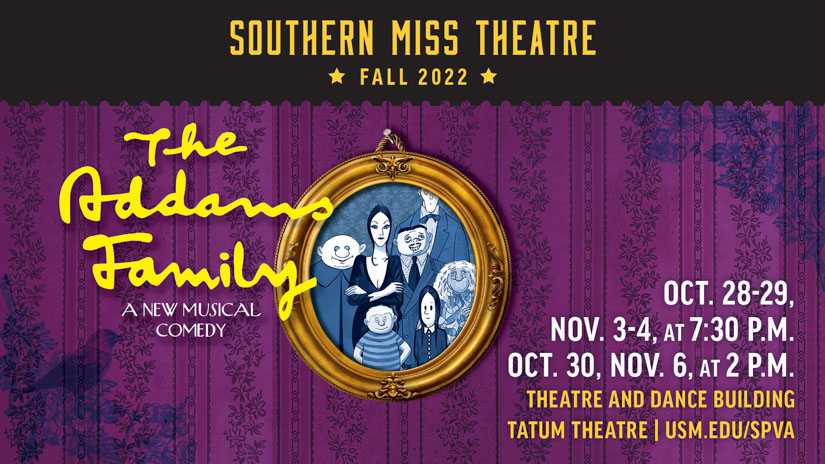 Based on Charles Addams' beloved characters, the spookiest, kookiest family takes the Tatum Theatre stage in a new musical as The University of Southern Mississippi (USM)'s Theatre program presents The Addams Family – A New Musical Comedy on Oct. 28 on the Hattiesburg campus.
The production continues on Oct. 29, Nov. 3 and 4 at 7:30 p.m. and matinée performances on Oct. 30 and Nov. 6 at 2 p.m. The performance on Oct. 30 promises to be a sensory-friendly performance through alterations like house lights remaining on and the lowering of loud sound effects to create an atmosphere that is welcoming for all patrons.
Tickets are $15 for general admission, $10 seniors, military, faculty and staff, and $8 for students. This show will most likely be enjoyed by ages 12 and up.
With music and lyrics by Andrew Lippa and a book by Marshall Brickman and Rick Elice, the story of America's darkest family comes to life in this original musical about love, family, honesty and growing up.
Caitlyn Herzlinger, the director of the production and assistant professor of acting, shared her excitement for bringing this classic to Southern Miss.
"Come discover our new illusion of "normal" with a twist on a classic story of The Addams Family," said Herzlinger. "This is an Addams Family like you have never seen before."
Stage Manager Rachael Tucker, native of Brandon, Miss. and BA in Theatre candidate, noted that the students involved in the production have put a lot of hard work into creating a unique Addam's Family.
"The Addams Family is something that everyone knows, but this production held at USM offers a new view into the family with new perspectives on design, direction, and emotion within this whimsical, nonsensical family."
Additionally, J. Theresa Bush, assistant professor of costume design, highlighted that the costume adaptations of the iconic looks will feature exciting costume moments.
"We took a non-traditional view by adding more vibrancy and color to the iconic looks that we all know and love. It has been great to adapt the iconic silhouettes to a fresh form," said Bush. "The most exciting costume moment comes in Act 2 when Morticia tears her dress asunder to reveal something exciting underneath."
Visit usm.edu/spva to purchase tickets.