Tue, 11/01/2022 – 09:21am | By: Ivonne Kawas
The University of Southern Mississippi's (USM) Dance program, housed in the School of Performing and Visual Arts, is set to kick off its fall 2022 concert series featuring choreographed works that have been developed by faculty and students over the course of the semester. Series highlights include performances with guest artists Jazelynn Goudy and Bill Evans.
The series features the Southern Miss Repertory Dance Company (RDC) Concert I on Nov. 3-5 at 7 p.m., followed by RDC Concert II on Nov. 17-19 at 7 p.m., and culminates with the Freshman Repertory Company (FRC) Winter Student Dance Showcase on Dec. 3 at 2 p.m.
All performances are held in-person in Studio 115 of the Theatre and Dance Building on the Hattiesburg campus. Livestream tickets of the performances are also available on designated dates only: Nov. 4 and 18.
Lauren Soutullo, assistant teaching professor of dance, notes that all the concerts will feature completely new and different works, so patrons will witness the talent and artistry that USM Dance has to offer. Some of the new choreographies are by USM Visiting Assistant Professors Kamali Hill and Jackie Beth Shilcutt, and Assistant Professor Brianna Jahn.
"We are thrilled to present new work this semester with guest artists, faculty and senior dance majors with the RDC — the Southern Miss Dance Program's very own performance company," said Soutullo. "Concert I will feature a hip-hop dance, choreographed by our guest artist Jazelynn Goudy, that is full of energy and excitement both musically and artistically and Concert II will feature work by guest artist Bill Evans which we are also very excited about."
"Additionally, the Freshman Repertory Company Student Showcase with the Student Dance Organization will include the premiere of a new dance choreographed by Visiting Assistant Professor Kamali Hill," said Soutullo.
Mikail Samuels, performance and choreography major from Kingston, Jamaica, shared his experience with exploring his creative journey.
"My choreographic experience this semester is one that is filled with confidence and new discoveries during each rehearsal," said Samuels. "Working with my five amazing dancers, we have created what I believe is a magical piece of work that is not only for us to connect but also for the audience to leave with a feeling of connection and wanting to rebuild those lost connections."
Meagan Cobb, performance and choreography major from Olive Branch, Miss., highlighted the excitement one feels when being immersed into the creative process, as you start to see the possibilities unfold.
"This semester I am making a piece that connects my experience as a choreographer and a visual artist," said Cobb. "As I approach the performance and the completion of my work, I am excited to see more possibilities unfold as each art form gives and takes from each other. I am focusing on deeply investing myself in my creative processes and trusting what my art is telling me to share."
Price of admission is $15 for general public; $10 for faculty, staff, seniors, and military; and $6 for students. The FRC Student Dance Showcase is free.
Buy in-person tickets via the Southern Miss Ticket Office or livestream via Showtix4u. Tickets for in-person attendance can also be purchased at the door.
Meet the Guest Artists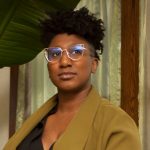 Jazelynn Goudy, assistant professor of dance at the Boston Conservatory at Berklee, is a dancer, educator, veteran, and artist from Milwaukee. Goudy has danced with Ko-Thi West African Dance Company children's ensemble (Ton-Ko-Thi) and later trained as an apprentice under Mama Ferne Caulker-Bronson. After graduating from performing arts school, she joined the United States Air Force as a security forces officer. After her military service, she dedicated her life to education, community service, and dance. A budding international performing arts scholar, Goudy has had many opportunities to take her talents abroad. She has traveled, researched, and performed traditional, urban, and contemporary dance of the African Diaspora in Brazil, Jamaica, South Africa, Cuba, and throughout the U.S. She studied "Noire Danse" for six weeks at Mama Germaine Acogny's dance school Ecole des Sables in Toubab Dilaw, Senegal.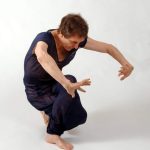 Bill Evans, a performer, teacher, choreographer, lecturer, administrator, movement analyst, writer, adjudicator and dance advocate, has a uniquely varied and comprehensive background of experiences and accomplishments. Evans has worked internationally in the field of somatics-based dance technique. He is perhaps best known as the creator of a Laban/Bartenieff-based dance technique that is disseminated in annual summer institutes and taught throughout the U.S.
For more information, visit usm.edu/spva.