Wed, 02/15/2023 – 08:07am | By: Ivonne Kawas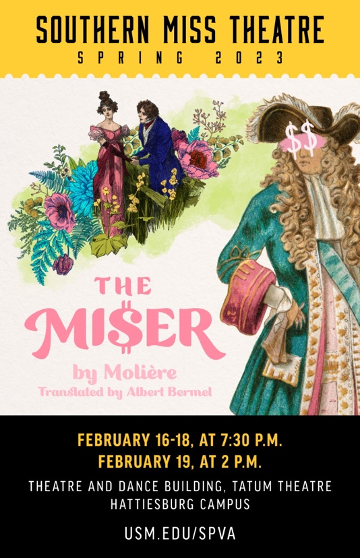 One of the greatest comedies by one of France's greatest playwrights comes to the Southern Miss stage on Feb. 16 as The University of Southern Mississippi (USM)'s Theatre program presents The Miser on the Hattiesburg campus.
The production continues on Feb. 17 and 18 at 7:30 p.m. and matinée performances on Feb. 19 at 2 p.m. The performances will be held in the Martha R. Tatum Theatre on the Hattiesburg campus.
Tickets are $15 for general admission, $10 seniors, military, faculty and staff, and $8 for students. This show will most likely be enjoyed by ages 12 and up.
Written by Moliere and translated by Albert Bermel, this comedy is guaranteed to bring a smile to all audience members as you travel back to the 17th century and witness an elderly miser's desperate attempt to hold onto his fortune and find a new wife.
Blake Waters, MFA Directing candidate and native of Mobile, Ala., shares his excitement for this production and warns audiences that they may experience extreme laughter throughout the show.
"The Miser is a hilarious comedy that presents the question: "Which is more important, Money or Love?". Most might have strong enough morals to recognize that greed is bad, and love is good," Waters stated. "But in a society where many are exploited by greedy corporations who rake in record profits, we must look inward and assess our own relationship with money."
Waters continued by stating, "We see a family confronted with this question when Harpagon, a miserly father, obsessed with money has his own plans for who his children will marry against their own wishes. Audiences should expect an evening full of laughter and fun!"
Taylor Busch, MFA Costume Designer candidate and native of Hattiesburg, Miss., shares her experience working on the period costumes for this production.
"Working on The Miser has been such an incredible experience," Busch shares. "I love working with period costumes in general, but to getting to make them beautiful and silly at the same time has been a thrill."
Visit usm.edu/spva to purchase your tickets.