Thu, 10/06/2022 – 09:24am | By: Ivonne Kawas
The Museum of Art in The University of Southern Mississippi's (USM) School of Performing and Visual Arts will open its biennial Ceramics National exhibition featuring the best in contemporary ceramic arts on Oct. 10 – Nov. 4 at the Hattiesburg campus. A lecture by visiting artist, followed by an opening reception will be held on Oct. 10 starting at 6 p.m.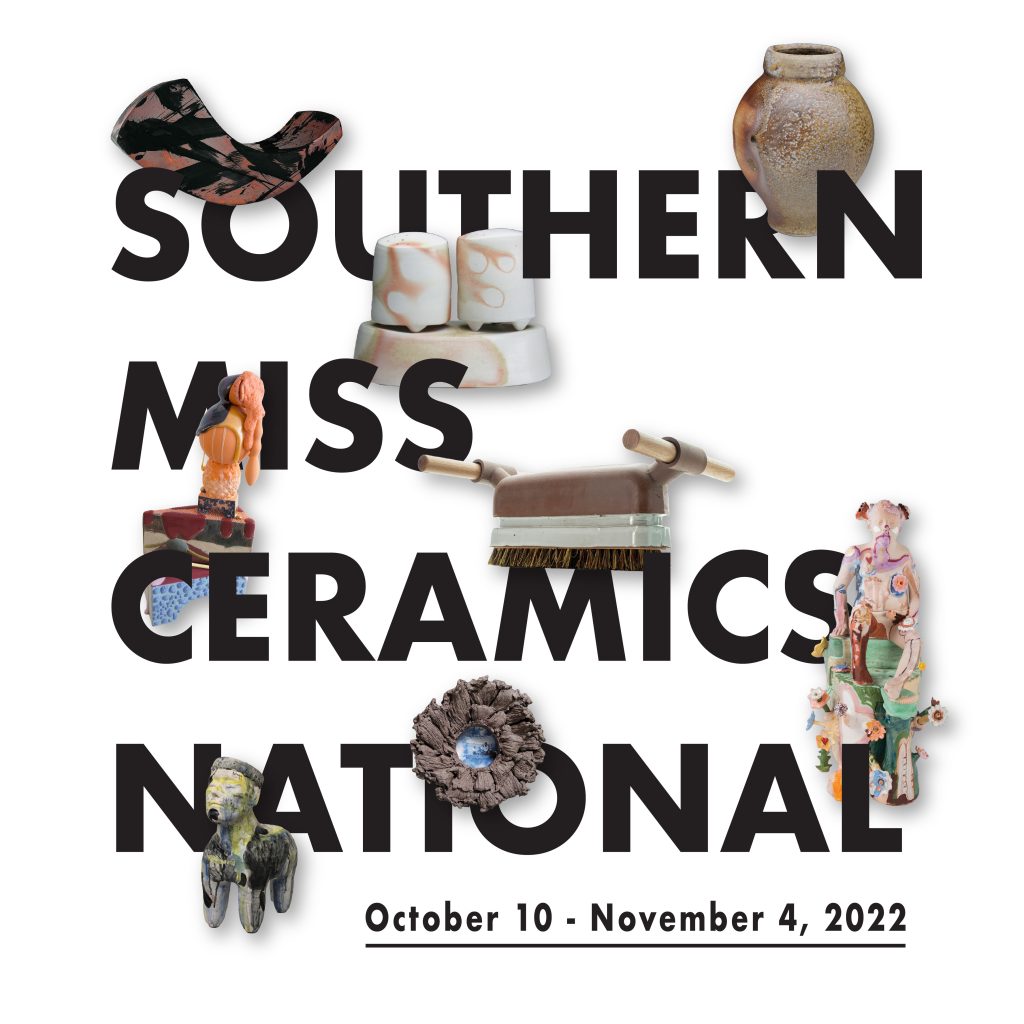 "The first time we organized this national juried exhibition was in 2016, and since then the show has gained a reputation as one of the best contemporary ceramic arts exhibitions in the southeast, if not the country," said Mark Rigsby, museum director and associate professor of Art and Design. "We are looking forward to another great show this year, and we are especially excited to have Mexican-American artist, George Rodriguez, serve as our juror and visiting artist."
Juror George Rodriguez noted that this year's exhibition includes 70 works by 49 artists from across the U.S. and said, "Narrowing down a large pool of creative, exciting and quality work is never easy," he said. "I chose work for this exhibition that demonstrates the versatility of clay through traditional and contemporary practices. I wanted to curate a show that is as diverse in artists, as it is in the artwork."
The exhibition includes a rich variety of pieces, spanning from figurative works, to non-objective and utilitarian. Some works are quirky and humorous, while others are charged with serious social or political commentary, and yet many are simply, finely crafted, elegant forms.
Participating artists include:
Maryam Amirvaghefi (Fayetteville, Ark.); Megan Angolia (Chesterfield, Va.); Lisa Marie Barber (Kenosha, Wis.); Joseph Batt (Olympia, Wash.); Brad Blair (Parkton,Md.); Robert Bruch (Oberlin, Ohio); Vincent Burke (El Paso, Texas); Athena Calvillo (San Jose,Calif.) Kimberly Canfield (Parkesburg, Pa.); Huy Chu (Gainesville, Ga.); Joshua Clark (Las Cruces, N.M.); Sean Clute (Columbia, S.C.); Jim Connell (Columbia, S.C.); J. Casey Doyle (Moscow, Idaho); Jaymes Dudding (Rio Rancho, N.D.); Kevin Eaton (West Hollywood, Calif.); Stephen Fisher (Caldwell, Idaho); Ron Geibel (Geortown, Texas); Juan Granados (Lubbock,Texas); Kathy Guss (Ellensburg, Wash.); Brian Harper (New Albany, Ind.); Stacey Johnson Hardy (Pass Christian, Miss.); Heather Kaplan (Las Cruces, N.M); Grace Kelly (New Orleans, La.); Meredith Knight (Montgomery, Ala.); Dillan Ladner (Tuscaloosa, Ala.); Stephanie Lanter (West Hartford, Conn.); Kristina Larson (New Orleans, La.); Steve Loucks (Wellington, Ala.); Jennifer Masley (Kent, Ohio); Lauren Mayer (Port Orchard, Wash.); Taylor Mezo (Bradley,Ill.); Jeffrey Michael (Cambridge, Mass.); Shawn O'Connor (Sweet Briar,Va.); Anela Oh (Gatlinburg, Tenn.); John Oles (Jacksonville, Ala.); Sheila Perez (San Jose, Calif.); Yelena Petroukhina (Little Rock, Ark.); Cesar Pita (Murfreesboro, Tenn.); Tyler Quintin (Topeka, Kan.); Emily Rensink (The Woodlands, Texas); Barbara Satterfield (Conway, Ark.); Loren Scherbak (Rockville, Md.); Samirah Steinmeyer (Tucson, Ariz.); Sarah Stobbe (Arlington, Tenn.); Zach Tate (Traverse City, Mich.); Lars Westby (Annapolis, Md.); Nicole Woodard (Kansas City, Mo.); and Masumi Yamaguchi (Long Island City, N.Y.).
"A special shout-out to USM Art & Design alums, Grace Kelly and Dillan Ladner, who both had work selected for this year's show," added Rigsby. "As our alums come back to campus to participate in Homecoming Week festivities, an anticipated tradition at Southern Miss, we hope they experience the vibrant arts community and enjoy the exhibition."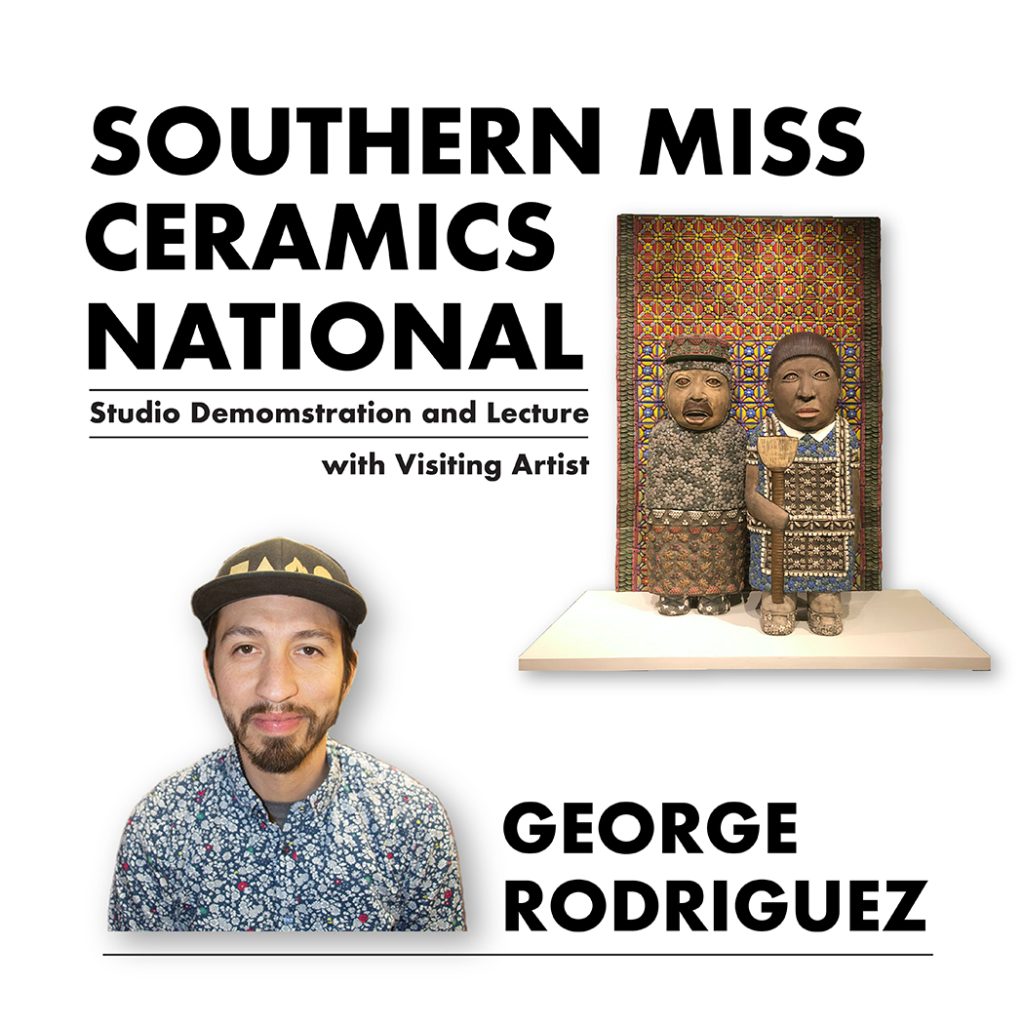 On Indigenous Peoples Day on Oct. 10, George Rodriguez will host a Ceramic Studio Demonstration from 11 a.m. – 1:30 p.m., continued at 2:30-5 p.m. in the 3D Arts Building. His Visiting Artist Lecture will be at 6 p.m. in Gonzales Auditorium, LAB 108, followed by the opening reception in the Gallery of Art and Design at 7:30 p.m.
The exhibition opens Oct. 10 and runs through Nov. 4, in the Gallery of Art & Design, George Hurst Building. The gallery is open from 10 a.m. to 5 p.m. Monday through Friday. For more information call 601.266.6389. All events are free and open to the public. The exhibition is presented in part by the generous support of Partners for the Arts.