Thu, 02/23/2023 – 01:15pm | By: Ivonne Kawas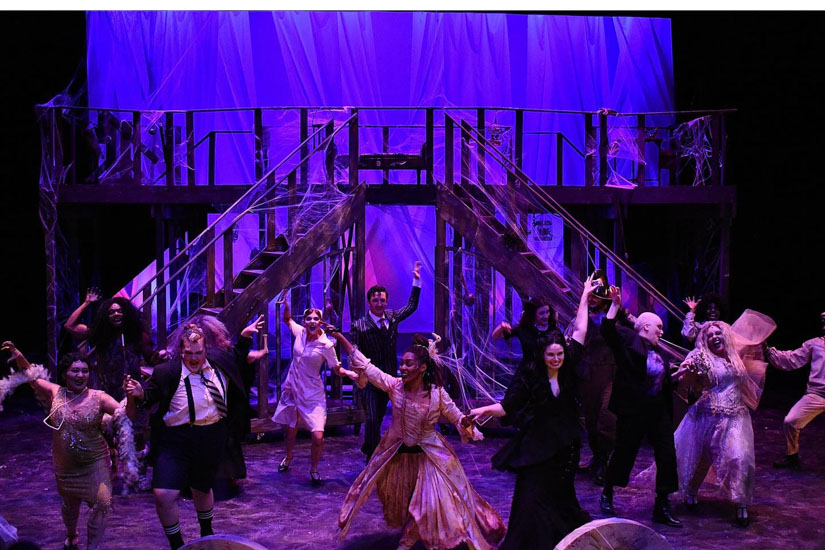 Students from The University of Southern Mississippi (USM)'s School of Performing and Visual Arts receive accolades after competing with other nominees from throughout the Southeast region at the 2023 Kennedy Center American College Theater Festival – Region IV (KCACTF) held this month at the campus of Georgia Southern University in Statesboro, Ga.
Acting competition participants and MFA in Theatre Performance candidates, Petron Brown, a native of the Bahamas and Abigail Anderson, a native of Hattiesburg, Miss., were selected as finalists in the coveted Irene Ryan Acting Scholarship competition. They performed with acting partners Kevin Thiel and Mark Swift, respectively.
USM students also received several honors and awards for their work in performances from last season in some of the most popular categories, including:
Hagan Harkins, a native of Slidell, La., was recognized as a national finalist (first place) for her projection design for She Kills Monsters; Shelby Ashley, a native of Hattiesburg, Miss., is the recipient of the Student Choice Award for her lighting design for The Addams Family; Jailan Patterson, a native of Pearl, Miss., is the recipient of the Heart of the Art Award for her makeup designs for She Kills Monsters; and Georgia Leming, a native of Thompsons Station, Tenn., was among the top 5 finalists in the Musical Theatre Initiative.
The KCACTF boasts contestants from a diverse range of fields in theatre and puts students in a competition that celebrates the highest caliber of work produced in university and college theatre programs. In addition to performances showcasing the outstanding work of the region, each Regional Festival features a wide range of professional development opportunities in all areas of theater that our students were able to participate in.
"It's a joy each year to have our students recognized for their superlative work among others from around the region, and it highlights both their talent as well as the top-notch training they are receiving here at USM," said Dr. David Coley, assistant professor of theatre.
The preliminary round for the Irene Ryan Acting Scholarship competition consisted of performing two short monologues on video. Once the students arrived at the festival, they announced the thirty-six individuals who would be moving on to the semi-final round in which they performed one monologue and one scene with an acting partner of their choice. Sixteen actors participated in the final round in which they performed two monologues and a scene.
Anderson says being among the finalists was gratifying, "It is very rewarding to be recognized for doing something you truly love, and it means a lot to me to represent our USM Theatre program because I have gained so much from this training."
Harkins, a Theatre and Computer Science major, shares her excitement for the new projection design category, as it recognizes the work of those who assist as projection technicians.
"At last year's festival, projections were just a part of an allied category. I'm beyond thrilled to be one of the first national finalists in this new category, on top of being a woman in tech," said Harkins. "I often feel like much of what I do isn't always the easiest to quantify, so having people respond to my work and recognize that what I do matters is so gratifying. Additionally, I enjoyed being able to use elements of game design and computing to bring my projections to life."
Ashley, a second-year MFA Design and Technology candidate with a specialization in lightning, recalls her experience of working on The Addams Family and notes how she enjoys making connections at the festival.
"I have always enjoyed how KCACTF allows us to deepen our friendships with those we come with, and the new friends we may make there," said Ashley. "It was an honor to win the Student Choice Award, as The Addams Family was my first musical production ever."
Ashley notes it has been her most difficult show to date and at the same time the most rewarding, "It was an extremely strenuous process that took many days to cue. All of the LED programming such as effects, color matching, and work with our moving lights, were all self-taught! Although this was my most difficult show to date, it was by far the most rewarding design I have had the privilege to make. As I approach my final year at USM, for my thesis project, I will be the lighting designer for Into the Woods."
Learn more about the Theatre program at USM.