Graphic Design Student Resources
The Graphic Design Area at Southern Miss prides itself on the success of its students both during and after matriculation. The resources provided on this page are meant to aid students in navigating the rigor and expectations of this elite area and to help enrich their overall experience as a graphic design student.
Should you have a questions, comments, or concerns about any of the resources provided on this page please feel free to reach out to any of the design faculty.
The BFA in Graphic Design is a professional degree that focuses on intensive work in design supported by a program in general studies. To enter the degree students must successfully complete a portfolio review during the spring semester of their sophomore year. To graduate students must complete a senior capstone project.
After completing the requirements of the Art and Design Foundations course work will focus on visual literacy; development of conceptual, aesthetic, and visualization skills; and creative problem solving. Students will learn Graphic Design skills and principles for identity design, type design, collateral design, editorial design, package design, poster design, information design, motion graphics, advertising design, and, interactive (web) design.
Curriculum and Requirements
Facilities and Equipment //
All of the Graphic Design Facilities are located in the George Hurst Building on the Hattiesburg campus. Each of the design labs contain an 11×17 capable color laser printer and scanner. Other equipment can be found in these labs and in the Senior Studio. For information about the equipment in the Graphic Design Facilities please select a room below.
Graphic Design studio spaces in the George Hurst Building are open 24/7 for student access. Students may enter the building using their student id in the rear east wing entrance near GHB 101. If your id isn't working please visit the Art and Design office during regular business hours.
Classroom Rules
No cutting on table tops (use cutting mats only)
Spraying must be done in spray booth (GHB 107)
No sitting/standing on tables or chairs.
Razorblades and sharp materials must be disposed of in the red safe containers at the front of the classrooms.
All flammable materials and spray cans must be kept in flammable storage (GHB 107)
Rooms must be kept clean and clear of all scraps or old projects.
Printers are for project use only.
All printer and projection cords must remain in the room.
All lights (room and track) must be turned off if room is unoccupied.
All tables and chairs must remain in rooms or promptly returned to a room after use.
Only Seniors are allowed in the Senior Studio unless accompanied by an instructor.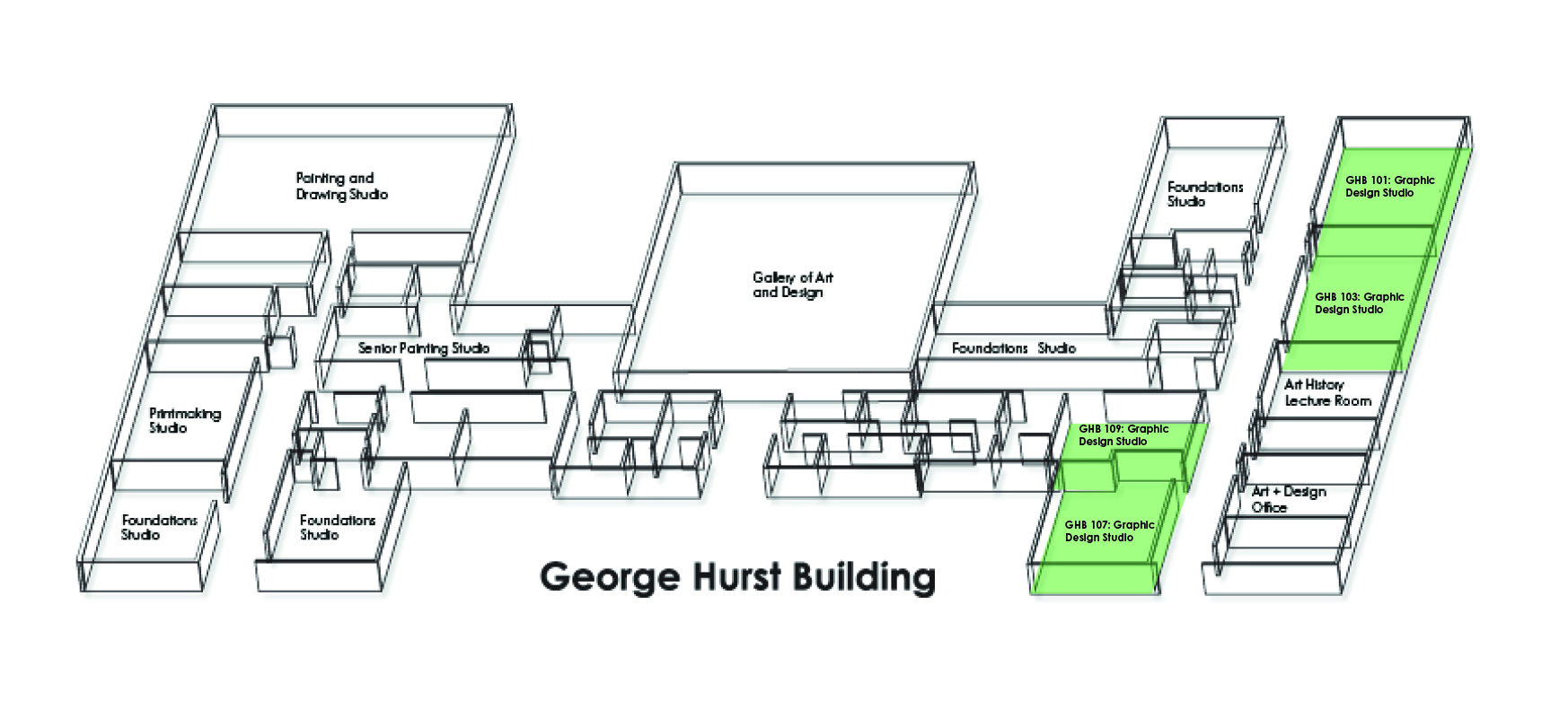 Printing and Presentation //
Students in the Graphic Design Area are expected to present the highest level work for project finals, portfolio, and capstone. This requires an exceptional level of craft skills along with a higher level of print production. Classroom printers are recommended for proofs and drafts, and students are advised to use professional level printers in the area for final finished work. Below are recommend area printers, tools, supplies, and other helpful links.
Tutorials and Recommended Reading //
Graphic Design is an industry and practice that is ever-changing. As trends grow and develop and software advances, new skills and knowledge are needed to maintain relevancy in the industry. Below are
Competitions, Exhibitions, Publications //
Competitions, exhibitions, and publications are an important part of a young designers growth and development. They help students to gain confidence and affirmation of their efforts. They also help to battle the old adage of being a "big fish in a little pond" and help give students a perspective and understanding of their competition for employment and industry expectations. Students are encouraged to enter after acceptance from their sophomore portfolio review. Competitions, exhibitions and publications are a required component of the ART 444 Portfolio course.
Students are not limited to the above and are encouraged to find other national level design competitions, exhibitions, and publications.
Inspiration and Other Resources //
Exposure to good design is important in developing a visual armory. Students are encouraged to explore the links below to build their visual armory and to see some of the best work in the industry.
Branding and Trends
Packaging
Illustration
Advertising
Print and Typography
Web and Motion
Stock Photography/Video
Free
Premium
Stock Sound/Music
Premium/Free
Typography
The college experience is enriched with the connections and relationships you make. This positive experience can usually be seen in the quality of work that students produce. Through the Creative Collective students are able to grow and connect with their classmates together. The Collective is known for organizing trips to conferences, visiting design agencies, hosting worknights and advanced tutorials, and other extracurricular events like bowling, laser-tag, movie nights and more.
To find out more about Creative Collective follow them on Instagram or check out their page.
Collective Instagram
Collective Page
Mailing Address //
118 College Dr. #5033
Hattiesburg, MS 39406
Physical Address //
201E Theatre and Dance Building
Hattiesburg Campus
Contact us about Graphic Design today!